DIRT LUGE Strava Challenge
Want to compete in a virtual race?
AWMTB Strava challenge for DEC 2022 – DIRT LUGE !!!
Ride the awesome dirt luge now it's had its makeover and beat your club mates for bragging rights.
We have setup a new Strava club – https://www.strava.com/clubs/AWMTB.
To win bragging rights make sure you join AWMTB on strava first then ride dirt luge anytime this month.
Going forward we will do some monthly strava challenges that may be a KOM segment or most climbing or longest ride etc. We will mix it up each month with a variety of challenges that may be gravity or XC focused, even E-Bikes!! – Stay tuned on the facebook page.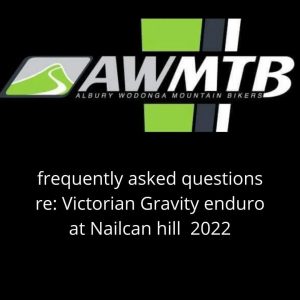 2023 Victorian Gravity Enduro Tour – Nail Can Hill – May 20/21st 2023.
Further details to come prior to race.

 2023 Nail Can Hill Run/MTB – 7th May 2023
2022 Nail Can Hill Run/MTB results
1st: Tyla Windham   2nd: Damian Gillard    3rd: Matt DeFreitas
1st Female: Laura Gillard    2nd: Gemma De Campo    3rd: Lauren Hanna
1st Junior Male: Alex Newman    2nd: Archie Ross     3rd: Ryan Ruhbaum
1st Junior Female: Clarisse Summerfield     2nd: Josie Alexander
IRONMAN: Tyla Windham   IRONWOMAN: Laura Gillard
 Upcoming: Social Rides – Stay Tuned!