Albury Category Results 180603
Albury Laps 180603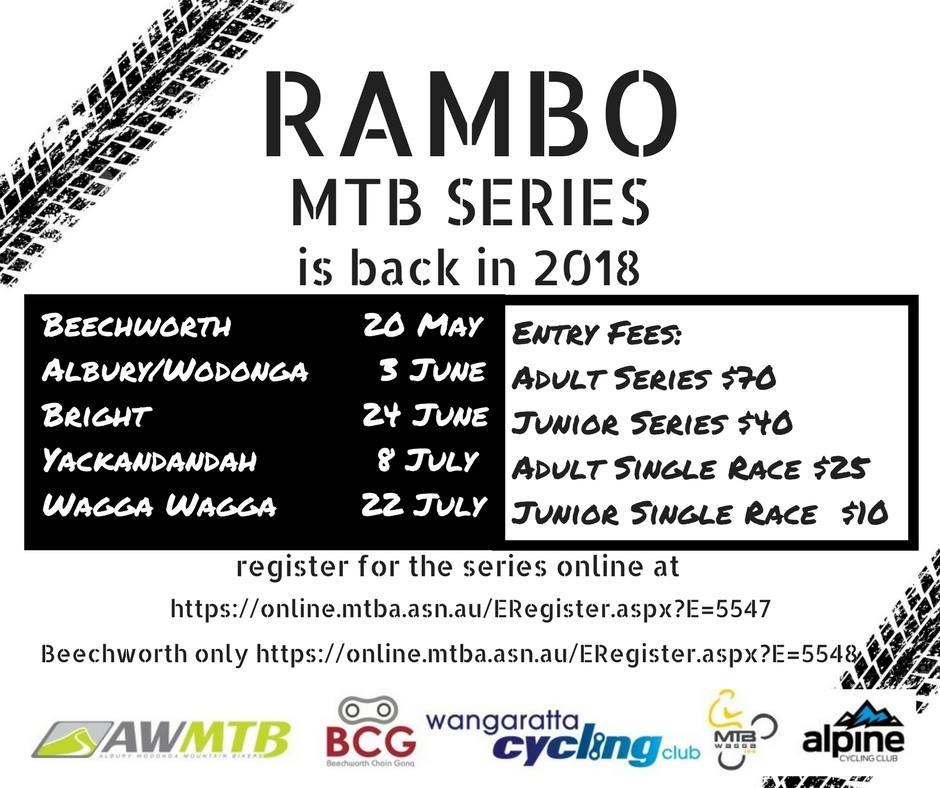 The Riverina Alpine Mountain Bike Open – RAMBO – interclub series is based around the North East region of Victoria and Wagga & Albury in NSW.  There will again be a Yackandandah round, to be hosted by Yack and Wangaratta clubs.   The  race series is held over the Autumn & Winter months and is based on a 3 hour or 1.5 hour enduro format.
ENTER SERIES HERE: https://online.mtba.asn.au/ERegister.aspx?E=5547
ENTER ALBURY ONLY HERE:    https://online.mtba.asn.au/ERegister.aspx?E=5619
The series caters for all levels of riders and is a fun and affordable way to participate in enduro racing and experience a variety of cross country trails in the local area.
Participating clubs and race dates are as follows:
20th  May – Beechworth
3rd June – Albury Wodonga – Nail Can Hill
24th June – Bright
8th July – Yackandandah (in conjunction with Wangarratta)
22nd July – Wagga
Registration & Start Times
Please register for the series or an individual race on line to make it easier on the race co-ordinators.
Registration: from 8:30am
Start time for 3 hour races: 10:00 a.m
Start time for 1.5 hour races & Juniors: 11:30 a.m
On line entry will be open from April 26
Prizes
Overall placings are based on an individual or team's best 4 races in the series and awarded after the last race.  There will only be a token series prize this year as clubs will take the opportunity to use RAMBO funds for additional equipment.
Classifications and Entry fees
NOTE: For teams, the online system nominates teams of 4.  Ignore this – teams can be any number or combination of male or female.
| Category | Race time | Series cost – online entry or at first race | Single race entry fee |
| --- | --- | --- | --- |
| Open Male, Open Female | 3 hr enduro format | $70 | $25 |
| Masters Male (40+) | 3 hr enduro format | $70 | $25 |
| Teams (all combinations) | 3 hr enduro format | $70 pp | $25 pp |
| Sport Male | 1.5 hr enduro format | $70 | $25 |
| Sport Female | 1.5 hr enduro format | $70 | $25 |
| Juniors (under 15 for the series)(girls and boys) | 1 hour race time | $40 | $10 |