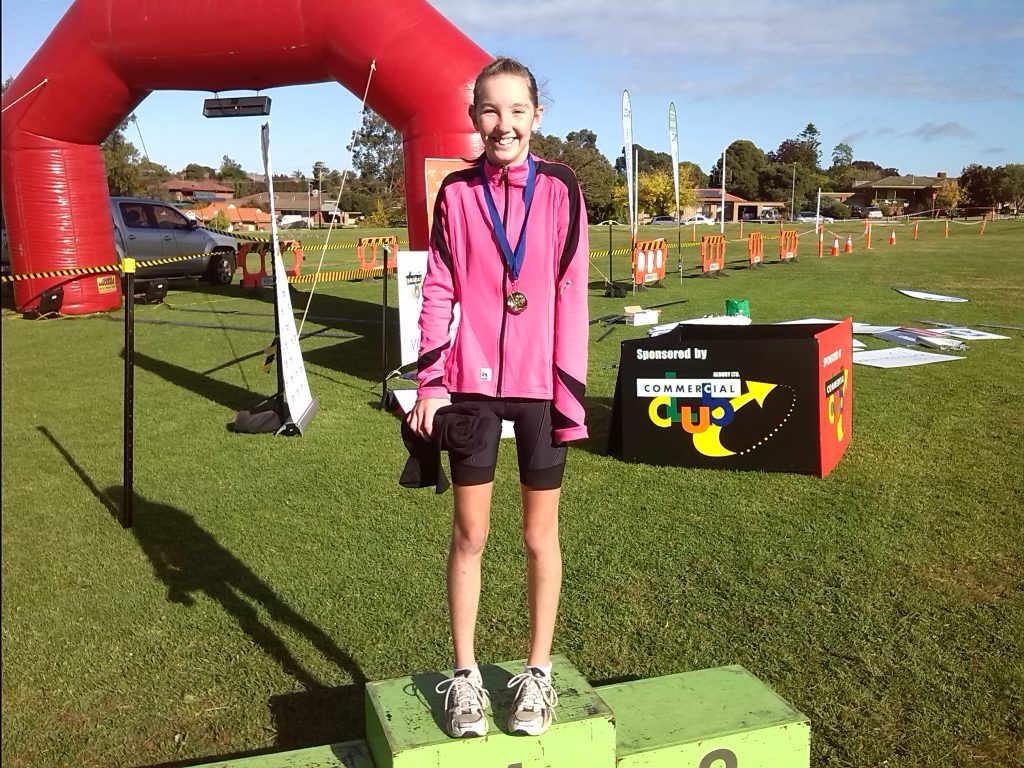 Junior Wrap up –
By Brad Spinelli
Laura Gillard steps on her first podium win in what may become a regular occurrence if following in the footsteps of her father Damian.
Judging by the smile on her face I think we may see her in a lot more MTB races.
And…….Chris Boyall finally takes a 1st place after coming 2nd and 3rd in previous years of the Nail Can race (junior Category). The 17 year old will move up to the adults soon so will be competing against Greg Boyall in a close contest each year.
Nail Can Ironman wrap up –
By Troy Hitchon
The NCH Ironman event on Sunday was run and won with the top finishers spread by just minutes over their combined times.
Ironman winner Simon Hitchon had travelled down from Canberra on Friday and spent a chilly afternoon riding the course for the first time. He had heard about the climb at the beginning of the 15km course and had feared the unknown for race day. Managing to stay with the lead group off the start he eventually finished 13th overall and was pleased with the result.
Riding back to the start line in cold conditions, the run proved much more challenging for the first-timer. "I came down after hearing my brother talk about how good Nail Can Hill is. I mostly ride and do very little running, but thought I'd give it a go. I am surprised by the Ironman result however i'm extremely pleased!" Simon would like to thank AWMTB for organising the event. "It was well run, good fun and challenging. I am happy with the win but not sure if i'll do it again!"
Local riders Jeremy Kaye finished second place Ironman to Troy Hitchon in 3rd for this year's event.